Sponsor Spotlight – World Surfaris, 25 not out
The time is 1971, When Albert Falzon's breakthrough surf film, Morning of the Earth documented the amazing surf sojourns of household names like Terry Fitzgerald, Gerry Lopez, Michael Peterson, Stephen Cooney, Rusty Miller, Baddy Treloar, Nat Young and Chris Brock. At the time these surfers had only just touched the sides of what the future of international surf tourism would become. Not only did it how surfers around the world what was possible, it planted the seed of discovery of what else was out there.
In 2022, Morning of the Earth celebrates its 50th Anniversary, but 25 years earlier in 1997, international surf travel company, World Surfaris was just getting started.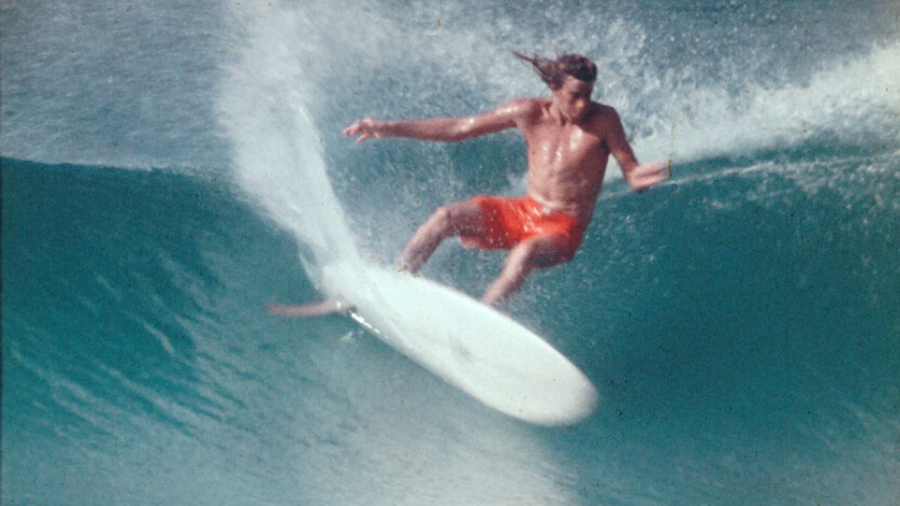 Originally founded out of a garage on the Sunshine Coast. World Surfaris rose over the years by offering surfers and their families unique surf adventures all over the world and the know-how to make it all possible. By the end of 2019, World Surfaris were flying high with an international team of around 20 staff and offices in 6 countries. For people like Director, John Finlay (Director) and Steve Adam (General Manager) World Surfaris was just getting started and had growth plans for the business that would be driven by the same mission statement the business started out with. Complete customer satisfaction and benchmark innovation for the niche industry.  
During an unprecedented 2 years, World Surfaris has grit its teeth and hung on for dear life, refusing to throw in the towel. With next to no international travel to speak of and close to 2,000 clients during this time, Steve and the World Surfaris team have literally been in the trenches handling constant booking amendments, cancellations, credits and refunds, all while trying to remain positive in a country with some of the harshest restrictions in the world.
World Surfaris resilience should be commended and it's their culture and vivacious and enthusiastic people who have inspired its survival. With more positive news on the horizon regarding international travel for Australians, that boat trip to the Maldives or Indo is at our fingertips.
They also managed to pull off what's being described as the the 'miracle Festival' of 2021 in the middle of the Covid 2021 Delta variant saga. As they approach their 4th consecutive Festival as event managers, we shared a coffee with World Surfaris General Manager Steve Adam to give us some further insights into what World Surfaris has gone through, where it's headed and what the Festival has meant to them during a challenging period in their illustrious history.
Q: SteveO how's things at World Surfaris? Can you give the readers a rapid summary of the past 2 years for you and the team? 
A: Things are good at WS, all things considered! It's been a grueling couple of years – I think everyone probably feels like that right now, irrespective of what industry you're in! Whilst it's been the most challenging period in World Surfaris 25 year history, we're extremely optimistic about the future and excited at the prospect of getting our clients away very soon. We've spent the past 2 years changing bookings multiple times, constantly liaising with our clients, operators, airlines and everyone in between to ensure that our clients get their trip of a lifetime when they will eventually be able to travel. We're really fortunate to have such an understanding and patient client base, the best operators in the business, and an incredible core team to work through the daily challenge of rescheduling 100's of trips. Everyone's just sitting tight right now waiting to hopefully get back to doing what we love very soon, traveling to the best surf destinations around the planet.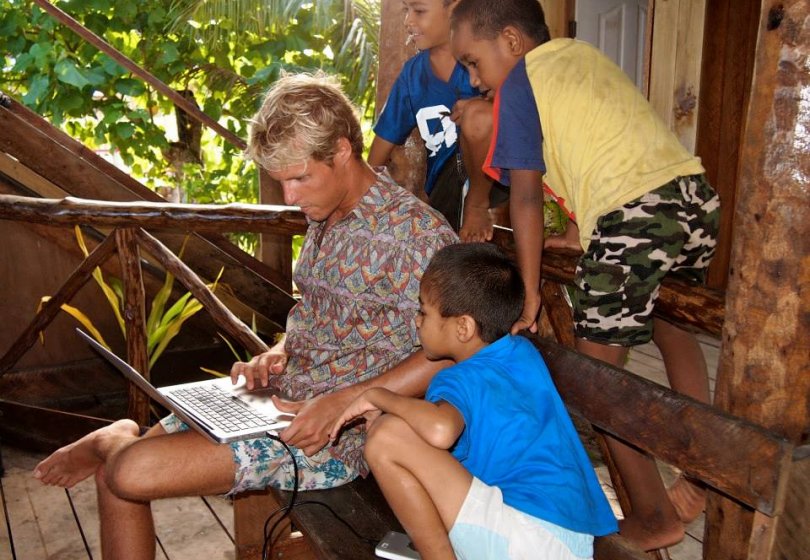 Q: Can you give the readers an insight into what has changed with international tourism, compared to pre-pandemic?
A: The hardest part is that the environment is constantly changing so it's difficult to give a consolidated breakdown of what international tourism looks like in general right now because it changes from country to country. Many destinations remain completely closed to tourists, whilst others are open to only a handful of countries or visitors who meet certain entry criteria. One obvious change is the requirement to complete multiple PCR/ RAT tests during your travels. This is pretty much standard across the board for any of the countries accepting international tourists. The introduction of proof of vaccination requirements and "eligibility for entry" criteria are also a new consideration and a determining factor for entry, along with presenting a negative PCR test. Then the big one of course, whether you need to quarantine on arrival at your destination or return to your country of origin in some instances, plays heavily on the viability of taking a trip right now and is a stark contrast to the freedom of movement enjoyed pre-pandemic. Navigating the intricacies of travel in today's environment definitely requires even more effort and expert advice. We were fortunate to run trips for our international client base throughout 2021, so our team is very experienced with what travel looks like to destinations like the Maldives and we're constantly keeping up to date with the relevant travel advice.
Q: Where can people go surfing now?
A: The Maldives and Fiji are both great options right now. If you're looking at an international surf trip asap, get in touch with one of our travel specialists who will help guide you through the entire process of getting there, back, and everywhere that's required in between.
Q: WS celebrates 25 years this year. Any party plans? I know the Festival falls right on World Surfaris 25th Birthday…March 13th if i'm not mistaken? 
A: We're very excited to be going into our 25th year, especially in the context of the past 2 years.  No elaborate party plans though, maybe just a couple of quiet beers down at the beach bar – the focus this year is getting our clients away on their long-awaited and overdue trips!  The continuing support of our clients is what has made World Surfaris the company it is over the past 25 years – we'll be celebrating when we getting our everyone away again…and ourselves!
Q: the Festival has provided the WS team a bit of a distraction during the last 2 years. What does the event mean for WS and what are you looking forward to most this year?
A:  The WS team always looks forward to the festival. It's an awesome celebration of surfing and culture and get's better and better every year.  For WS it's a fantastic opportunity to support an event that draws competitors and the public alike to a celebration of our favorite pastime, in the most beautiful surfing reserve in the world.  I think there have been some good things added to the event in recent years which is an indication of the World Surfaris innovative flare which we take great pride in. The new twin fin event was hugely successful in 2021 and the addition of the skateboarding I feel has added a new audience and therefore more spotlight for an already great Festival. I'm looking forward to all of it but mostly (really hoping for) good sand and great swell for the entire festival to give everyone a chance at surfing a heat at perfect first point….oh and the dogs! How could I forget?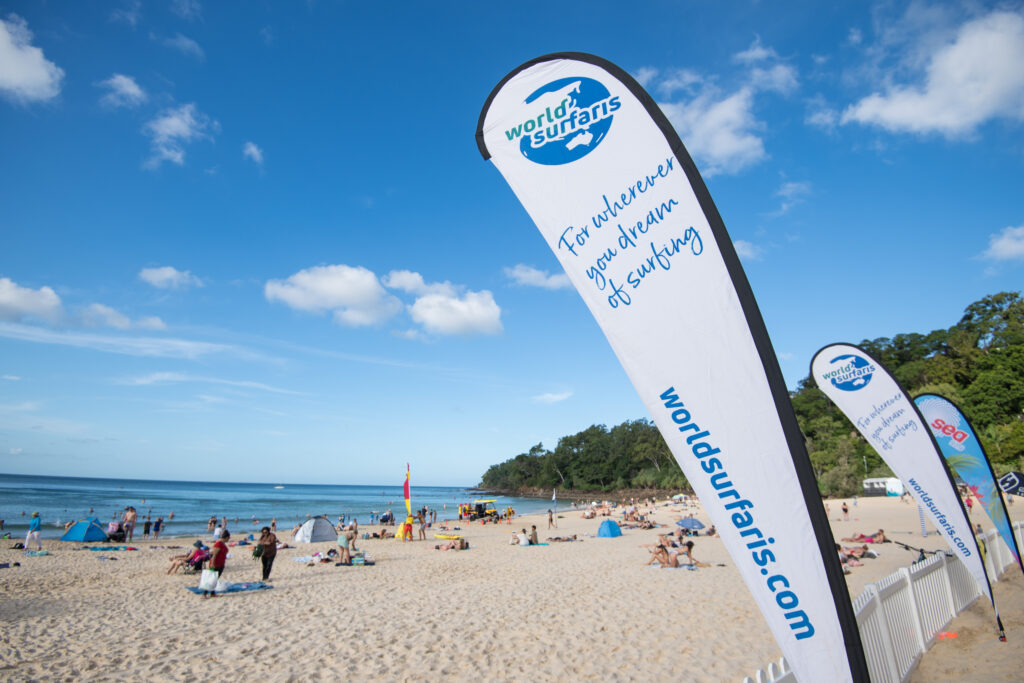 Q: Finally. What's the first surf trip you're taking as soon as you can?
A: Anywhere mate, I'll take anything I can get!
If you're interested in finding out more about international surf travel and want to speak to a team that know how to wade through all the criteria necessary, speak to World Surfaris.
Phone – 1800 611 163
Email – [email protected]
Website – www.worldsurfaris.com
Read more articles