February 2022 Press Release
With less than four weeks remaining until the launch of the 31st annual Noosa Festival of Surfing presented by GemLife, the action, entertainment, and excitement are heating up both in and out of the water.
With 2022's large competitor field and the uncertainty of travel possibilities, the decision has been made to extend the entry deadline, affording late-comers the opportunity to sign up for their division of choice or to enter a second age division. *Age competitors may only enter a division down…i.e. Over 65's competitor can enter the O55's.
While some divisions have places remaining, some of the most iconic events are rapidly reaching capacity, including the Eco Evo Surf Logger Pro, the Deus Old Mal, and the Vissla Twin Fin divisions. Vacant spots for senior age divisions too are also rapidly dwindling, and festival director, Josh Allen, is urging people to enter now while they still can:
"Every year, I am inundated with late entry requests. Though we'd love to be able to accommodate everyone, time restraints and logistics mean that once a division is full, we are unable to add more places due to seeding and heat progressions, so it's vital to get in now to avoid disappointment."
It's shaping up to be a dynamic festival of competition, despite the limited ability for international guests, but it's not only in the water that exciting things are happening.
Assisting the Sunshine Coast's disabled youth, The Board Meeting has frequently been supported by the festival, helping to provide opportunities to kids in need. 
This year is no different, and Sunshine Beach Surf Club will be hosting a charity dinner with celebrity guests and former and current WSL surfers, Luke Egan and Noosa local, Julian Wilson. The dinner event incorporates a door raffle and superb auction of surf memorabilia and offerings, and sharing the evening in such celebrity company makes this special event worth every cent, and even more so when donated to this worthy cause.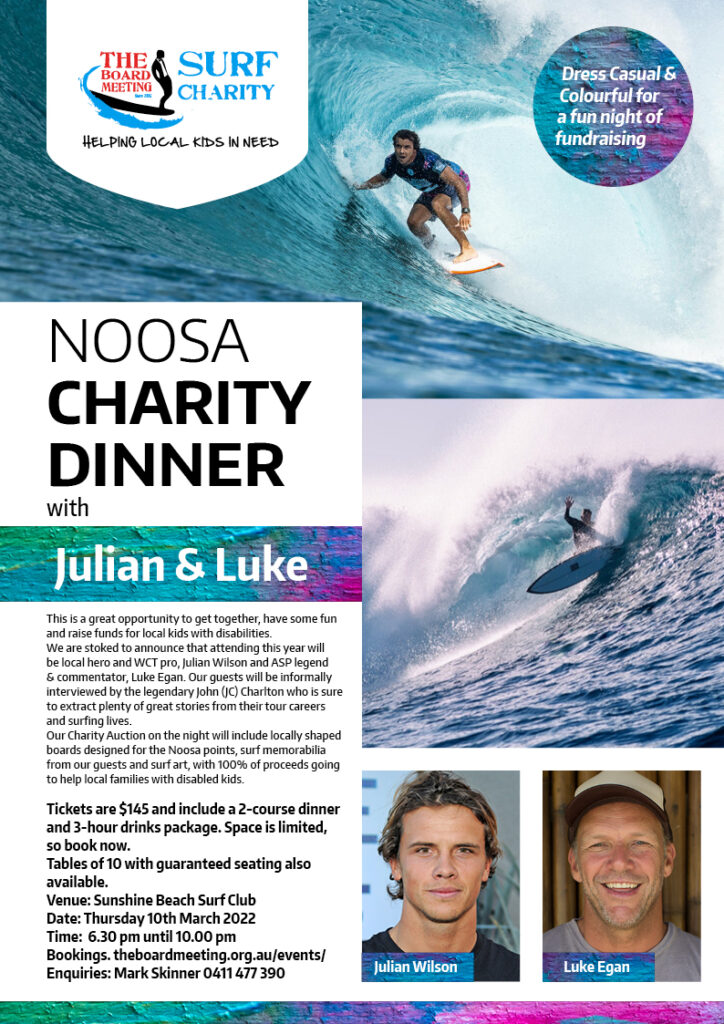 Deus ex Machina brings its presence back to the Noosa Festival, with the iconic surf and motorcycle brand hosting a screening of its latest film, Death Rides a Horse. Filmed across the  Mexican coastline and expertly directed by Dustin Humphrey, the movie follows six friends – including Noosa locals Harrison Roach, Matt Cuddihy and Zye Norris – as they trek the Mexi coast in search of cheap thrills and free waves. The J Theatre in Noosa Junction will be hosting the screening on Saturday 12th March.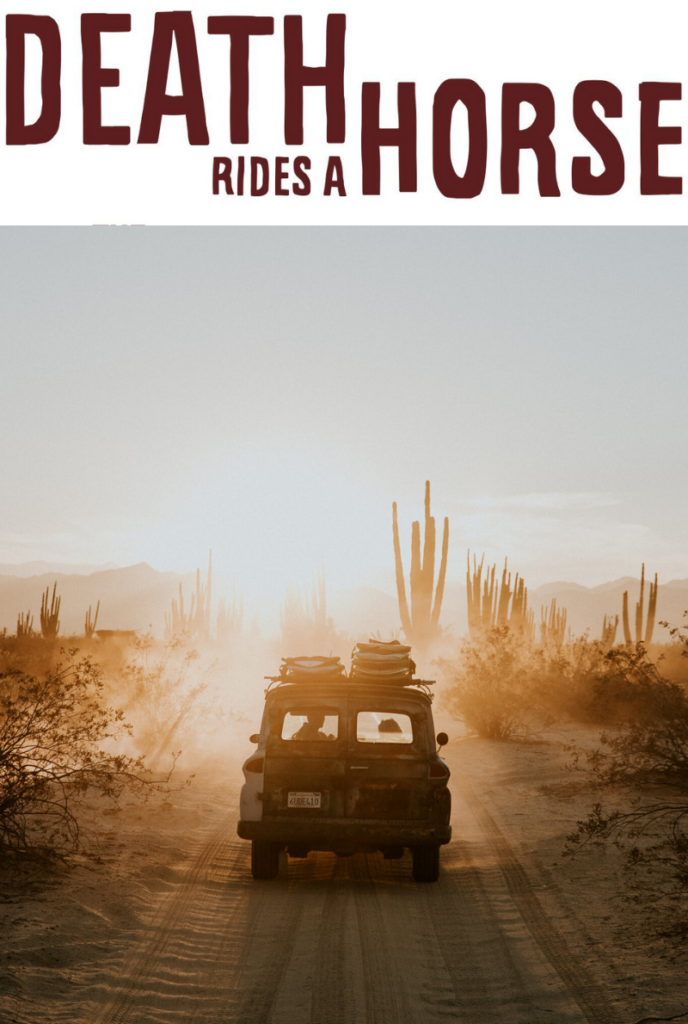 Films abound this year, with the very special 50th Anniversary screening of Able Falzon's classic, Morning of the Earth now sold out, while Noosa Surf Museum will also be tripping down amnesia lane presenting a glimpse into the Surf Film Archive, a collection of historical surf film clips carefully preserved and digitised by Jolyon Hoff and Hamish Ludbrook. The screening takes place on 10th March.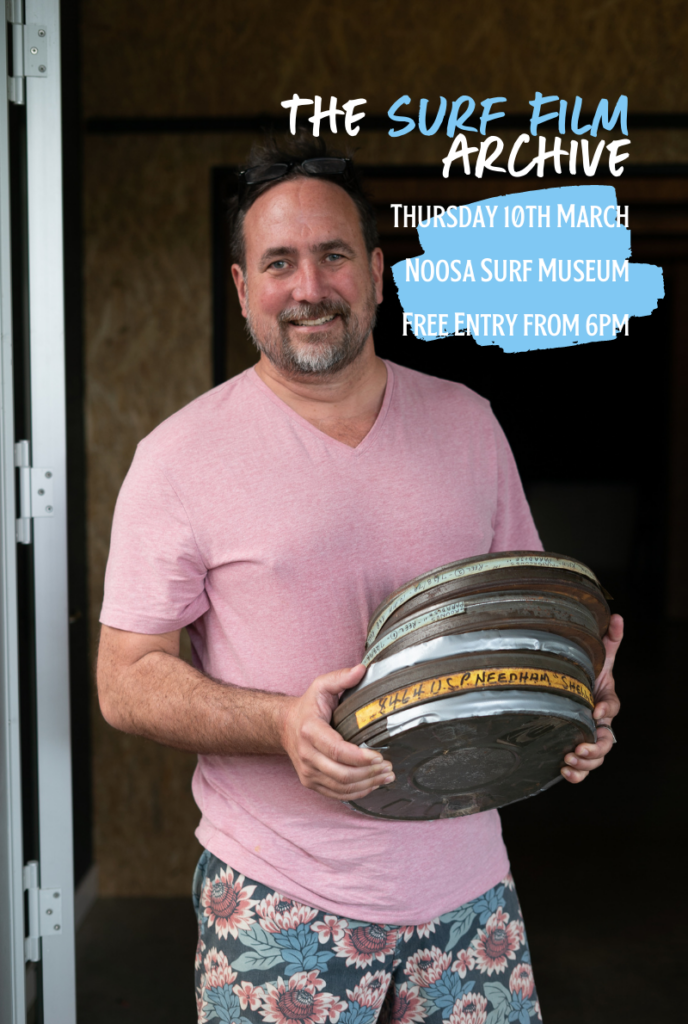 Surfing is a mind game, taking almost as much mental fortitude as it does physical ability, and few know this more than big-wave charger, Mark Mathews.
Bringing this mindset into his daily life, Mathews has adapted the same mentality of calm, focus and mental strength to overcome all interpretations of fear within his life on land.
It is a lesson so many of us could benefit from, taking the challenge of fear, however it may present itself, and utlising it to our benefit.
Mark presents his fascinating, globally-appreciated keynote, Life Beyond Fear, especially for us at the Noosa Festival, helping others learn from his experiences in adapting our fear to strengthen, empower and enrich all dimensions of our lives, whether we are surfers or not.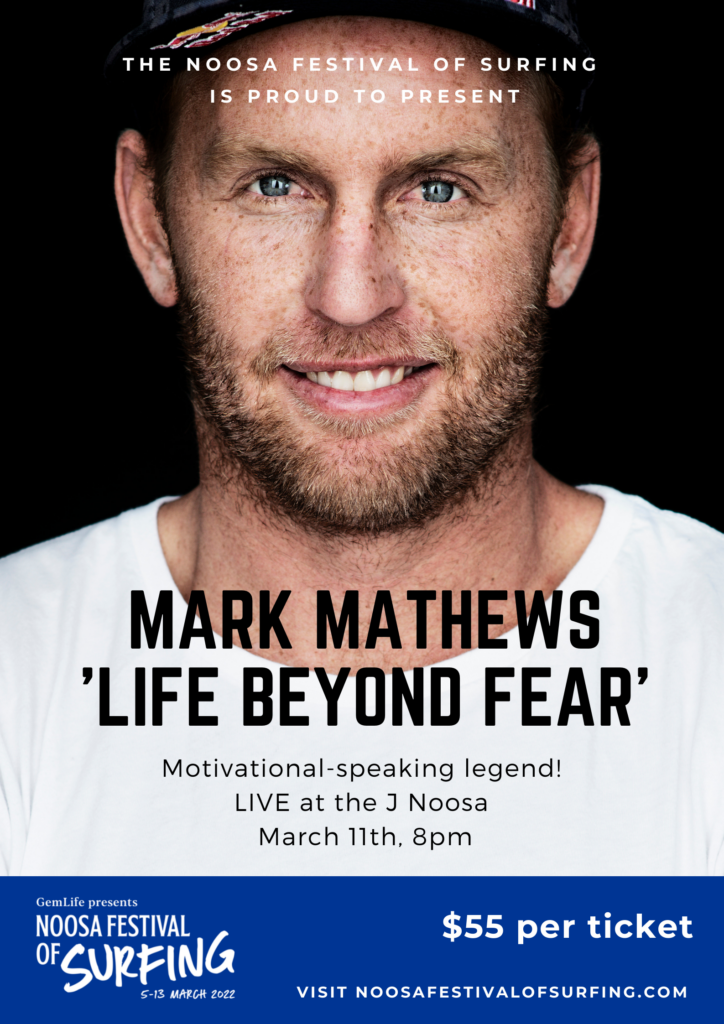 The 31st Noosa Festival of Surfing presented by GemLife takes place 5-13 March, 2022. Just a glimpse at a stellar line-up of events and activities taking place during the 2022 Noosa Festival of surfing, you can find more information about these and all entertainment and competition at: www.noosafestivalofsurfing.com.
Read more articles