Film and Photography Night at the Surf Museum
Join us on Thursday the 20th of May, for our inaugural Surf Film and Photography night.
Hosted at the Noosa Surf Museum (3 Hilton Tce, Noosaville). Get a peek behind the lens and into the world of surf photography and be inspired by international surf and travel photographer Chris Peel.
Chris has curated a stunning tribute to surfing over the years by capturing perfect moments in time from his adventures both near and far. From remote villages in Papua New Guinea, Land of Lefts in Indonesia, freight trains in Western Australia to the calm shores of Noosa and Byron Bay, Chris' talent, charm and passion for surf photography is an infectious visual interpretation of what surfing is all about.
On top of the surf photography exhibition we will also be showcasing an assorted range of surf films, sponsored by Vissla Surf. Dedicated to their philosophy of creative freedom and adopting a generation of creators and innovators, the team at Vissla will be screening surf films that express the beauty, independence and freedom endemic to surf culture across the globe.
Make sure you come early and explore Noosa and Australia's rich surf history. The Noosa Surf Museum showcases a collection of priceless boards crafted by some of the biggest names in the industry, the likes of; Bill Wallace, Nat Young, Bob McTavish and Pete Townend. Escort yourself around at your own leisure and take it all in. Enjoy handmade, lovingly crafted boards, some older than 100 years! This type of art permeates a vibe from the by-gone era of surfing's yesteryear.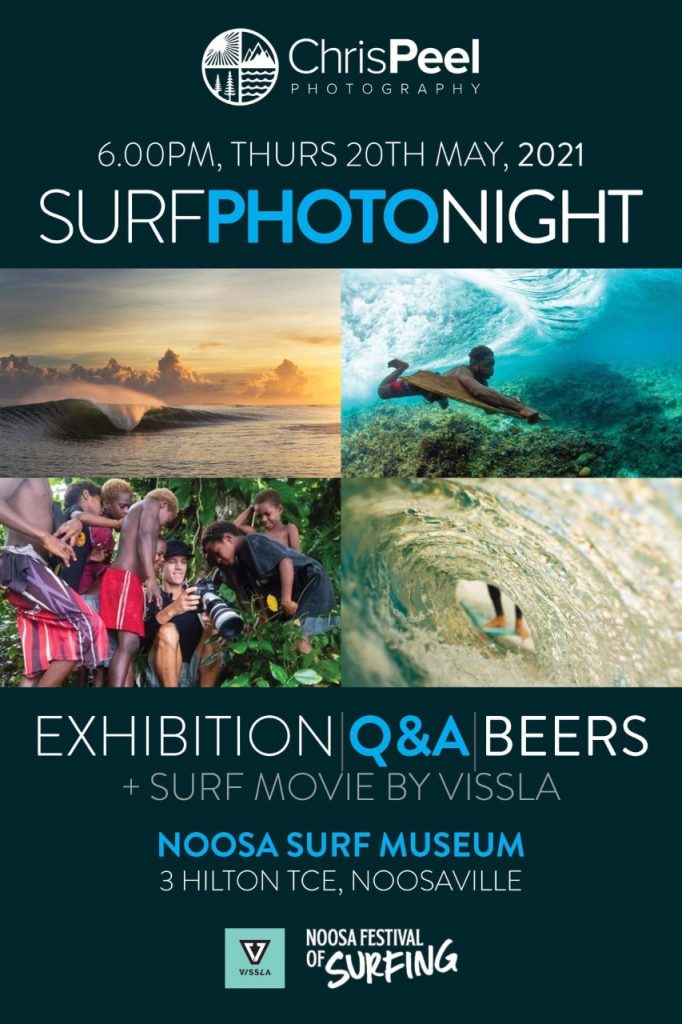 Read more articles