The Noosa Waste Warriors are local environmental warriors who help with waste education, monitoring and management at local events. They are our local heroes who are passionate about protecting Noosa's pristine environment and eliminating as much waste as possible.
The Noosa Festival of Surfing first introduced the Noosa Waste Warriors at it's 2019 event to great success. If you have attended the Surfing Festival in the past or any other major event in Noosa, there's a good chance you have likely seen one of the friendly Waste Warriors helping patrons find the right bin for their waste.
Through the help of Waste Warriors and the introduction of waste stations at events, major Noosa events have successfully diverted large amounts of rubbish from landfill. The amount of recyclable and compostable waste has also increased significantly.
If you are attending the Noosa Festival of Surfing in 2023 and see one of the Noosa Waste Warriors, don't be shy – have a chat, ask questions and find out how you can help reduce waste to protect our stunning environment.
Better yet, if you are interested in becoming a WASTE WARRIOR read on below and then apply via our "Join the Team" application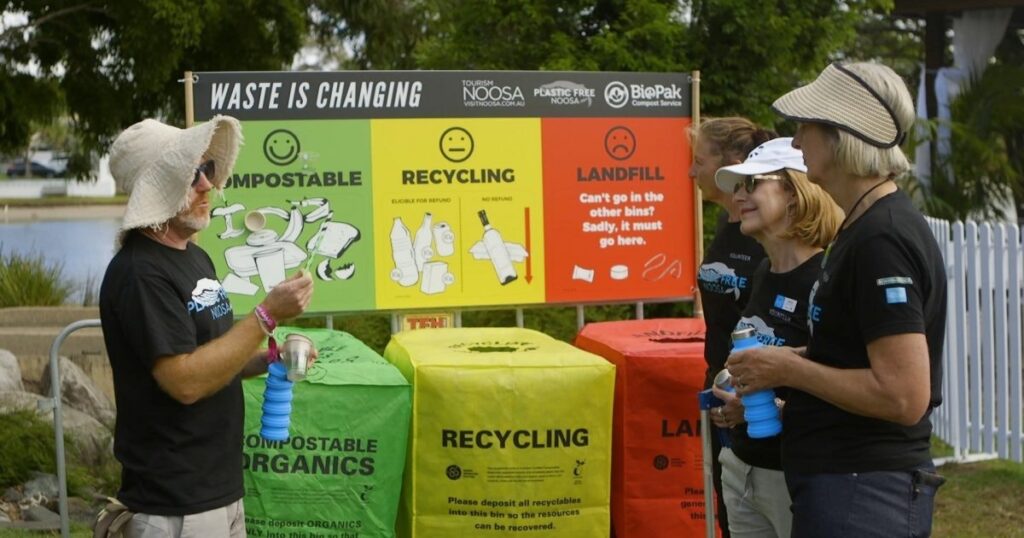 ---
NOOSA WASTE WARRIORS – APPLY NOW!
Job description
Why? The NFoS is committed to its Sustainability Policy and reducing the environmental impact of this festival on Main Beach and surrounding coastline and for its local residents, flora and fauna. This event is aiming towards being Plastic Free and is committed to not using any single use plastic. What does that mean? It means, within our scope we will not be producing any plastic rubbish and if we do receive plastic from outside, we will ensure it is segregated, controlled and either sent for recycling or landfill. We will promote reuseable and compostable containers and enthusiastically educate our Festival goers to do the same.
Location: Waste Warriors will work in pairs and be stationed at any of the Bin stations located at First Point main beach. We will meet in front of the Beach Bar 15 mins before your shift to enjoy your FREE volunteers Padres coffee, (BYO keep cup or buy one from the festival to promote reuse!) and have a briefing of what you can expect on your shift. It is VIP that you attend your briefing to understand traffic flow and expected visitor numbers.
Duties: The primary role of a Waste Warrior is to promote and educate festival goers how to recycle (which bin to use) and promote Plastic Free Noosa's event criteria, all with a smile!. We will not be selling any single use plastic water bottles at the event so you need to offer visitors water alternatives (eg. Noosa Water in refillable bottles or BYO bottle with free refills either at bubblers or at the van). Beach Clean-up duties if required will include collecting rubbish from First Point beach to car park. For those interested in sustainability, we also offer other duties about the analysis of the environmental footprint of this event, including how we measure its energy, water and waste- just let us know if you would like to learn more. We will be working with our awesome Waste contractor who will remove the rubbish for you and continue sorting throughout the event to achieve our target of 80% waste diversion from landfill.
Supervision: Amanda (0422877162) is the Sustainability Officer for the festival and Jo Ferris (0402758288) is the Programme Manager for Plastic Free Noosa.
Safety and Equipment: You will be issued collection bags and reusable gloves and rubbish pickers. We do not expect a lot of glass or sharps at this event on the beach, as all glass beer bottles will be going to the refundable trailer, however, should you see broken glass or sharps on your clean up – please report to a Supervisor who will arrange collection. Steel rakes will be used to ensure all items are collected even under the sand.
Clothing: Please wear sunsmart clothing and bring with you a pair of reusable gloves and shoes comfortable enough to wear from sand to footpath. You will be issued 2 x crew t-shirts so please wear these with pride.
Sustainability Policy: Take a moment to read the Events' Sustainability Policy online to ensure you are ready for any questions you may get whilst doing your volunteering.
NOOSA WASTE WARRIORS – APPLY NOW!