6 Surfers to watch in 2023
Every year, a stellar lineup of some of the world's best longboarders flocks to the shores of Laguna Bay for the Noosa Festival of Surfing.
Celebrating its 32nd anniversary in 2023, the Noosa Festival will benefit this year from open borders and the free international travel regained since the pandemic.
With competitors flocking in from almost 20 nations, this year is certain to be another outstanding showcase of classically-inspired contemporary longboarding. But it isn't only the visitors who will impress, and with two world title holders and some national champions hailing from Noosa shores, the locals are certain to put on an exceptional display at their home breaks.
Here are six surfers to watch at the 2023 Noosa Festival of Surfing:
HARRISON ROACH
For a number of years, Harrison Roach has been one of the most revered exponents of contemporary logging – the riding of traditionally-inspired, heavier single-fin longboards. He has held aloft the winner's trophy in innumerable events here at the festival, and across several disciplines including the Logger Pro, Noserider and Old Mal divisions. But 2023 will be the first year that Harrison surfs his home break as the reigning world champion. Claiming the title from another of our top six in Malibu Ca. in October of last year, the quiet-spoken surfer from Noosa has long been lauded as one of the world's best, and has now proven it on the scoreboard. His diversity of talents and acute local knowledge will once more combine to make Harrison a firm favourite for at least one podium finish in 2023.
KANIELA STEWART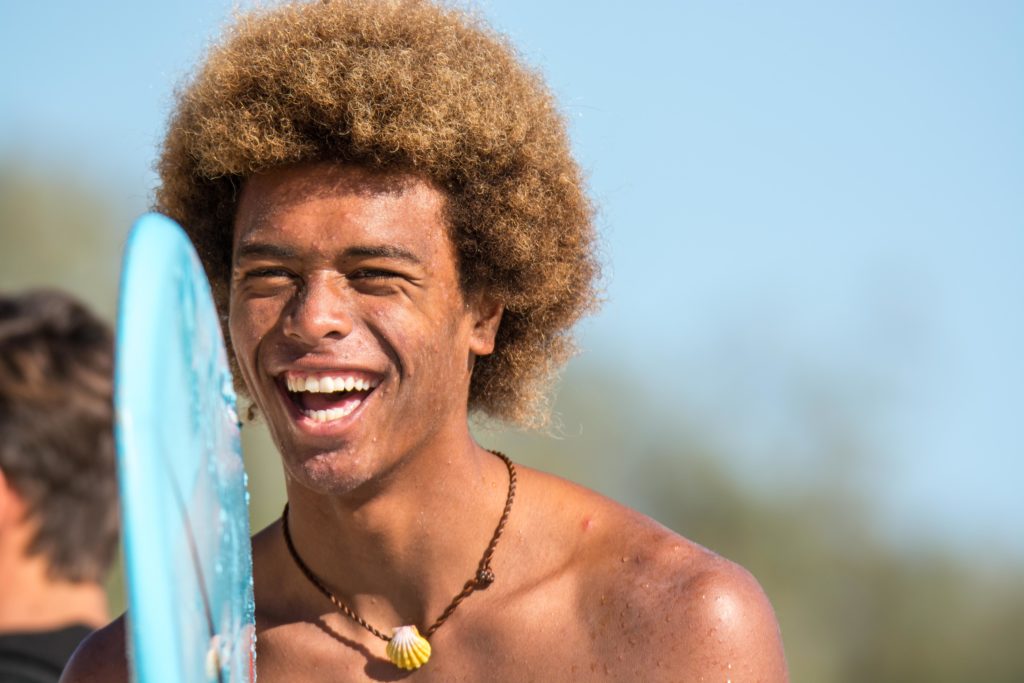 When Kaniela 'Kane' Stewart first came to the Noosa Festival from his home in Hawaii, he was all but unknown, but his explosion of hair, beaming smile, genial nature and impeccable surfing soon made him a very welcome and admirable guest. An impressive first year was backed up with what remains one of the festival's most impressive single waves ever surfed. The blessing of a good swell in 2018 allowed Kane to truly shine, and already with a strong 9.5 on the board, he rode a picture-perfect First Point peeler to a resounding perfect 10-point score. Even his fellow heat competitors were in awe, and Kane's ten is indelibly etched into the festival history books. Still a teenager when he unleashed this incredible performance at Noosa, Kane has had five years to mature and further hone his skills. This was more than evident when he was narrowly defeated by Harrison in the final of last year's World Longboard Titles at Malibu.
KAIMANA TAKAYAMA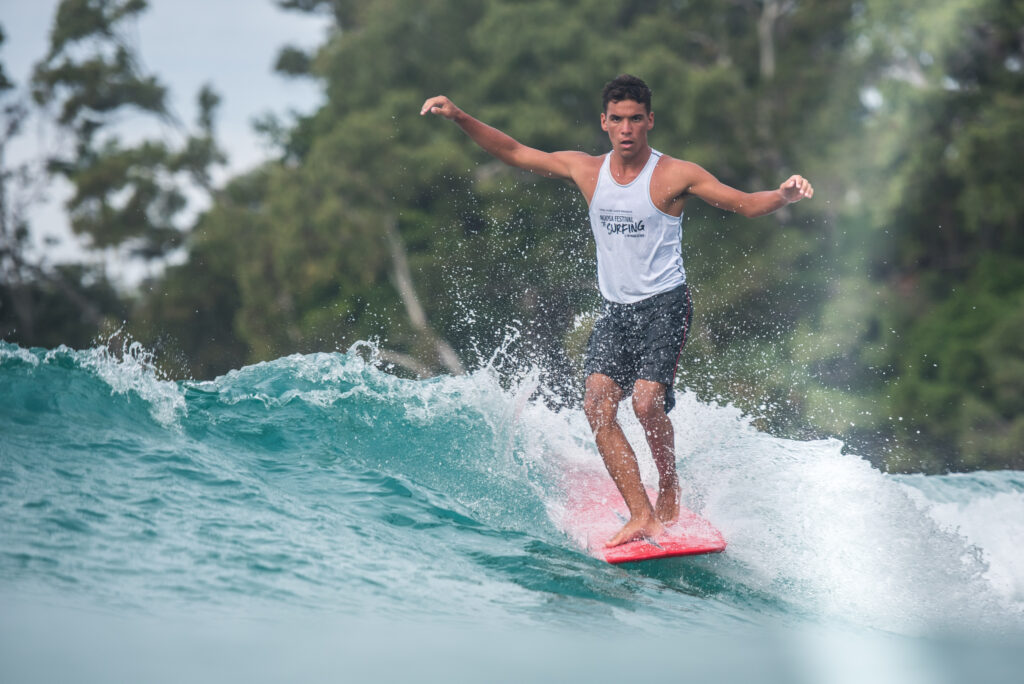 Californian Kaimana Takayama's unextinguishable stoke often overshadowed his evident natural talent in his first few years of Noosa Festival competition. He showed a great deal of skill, but often missed out on success due to his over-enthusiasm, paddling for too many waves, reaching for hang fives in impossible situations and undermining his own potential. But he matured quickly, and by his third year competing in Noosa, it was apparent that he'd taken on the wise words of surfing elders – including his father, shaper Micheal Takayama – and refined his approach to contest surfing, with some impressive results. A strong junior when last we saw him, Kaimana is now in the pro ranks, and some excellent performances on the US stage have our interest well and truly piqued to see what he can accomplish at this year's event here in Noosa.
AVALON GALL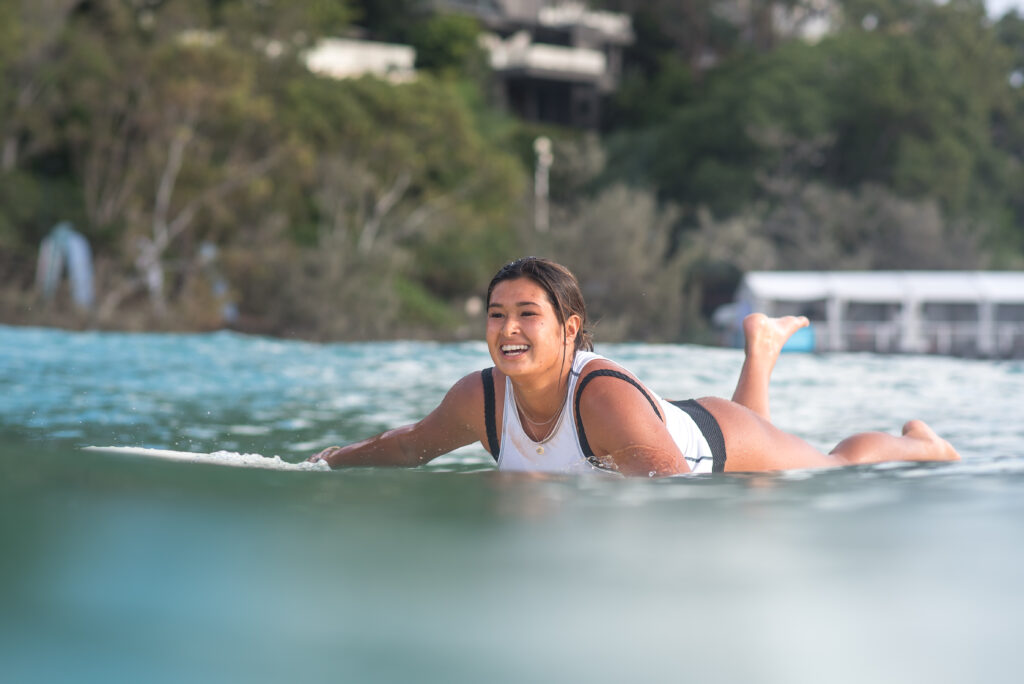 The third musketeer in a close-knit collection of Californian-Hawaiian visitors, Avalon's first year in Noosa was plagued by competition jitters. It was quite clear that she could surf incredibly well, but her nerves became an enduring theme of excellent displays marred by rookie mistakes. Her freesurfing and warm nature in the lineup more than radiated though, and all who watched her surf 'off the clock' immediately saw her incredible potential. More competitions, more travel and more practice have combined to give Avalon a collection of good results and elevate her reputation as a surfer with all the talent to go far. Like Kaimana, it has been several years since we have seen Avalon compete here at Noosa and we cannot wait to witness the evolution that has taken place in this young lady.
TAYLOR JENSEN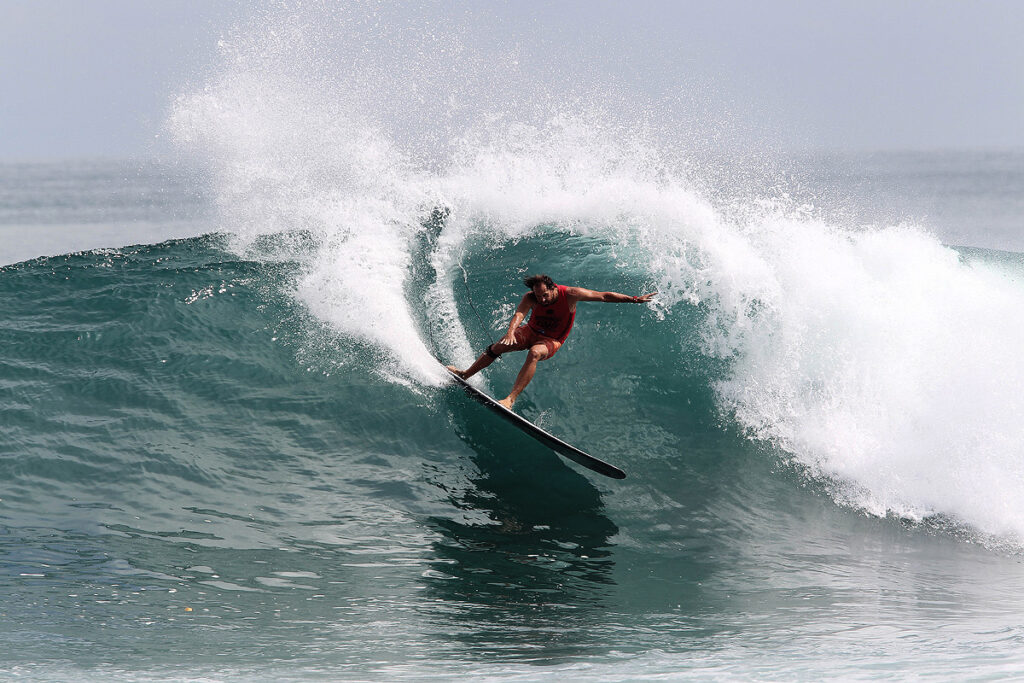 Creeping up on the big 4-0, Taylor Jensen may not be a spring chicken on the longboarding scene, but the three-times World Champion has rarely waivered in his competition prowess. Winning his first title 12 years ago, he has gone on to be a strong exponent of the more powerful and dynamic form of longboarding. Once called progressive, it is a style that has faded significantly in the competition arena, giving way to the resurgence of logging. Fortunately, the adaptable Jensen has been able to roll with the changes, adopting the more flowing style of singlefin logging, but infusing it with that same dynamism he has always displayed. He can finesse the nose on knee-high runners or unleash in a cloud of spray, driving cutbacks and even rising above the lip when conditions dictate. With well over a decade of outstanding competition performances in the bag, Taylor is far more than a one-trick pony, and one can never predict what extraordinary manoeuvre he might have planned for the next wave.
MASON SCHREMMER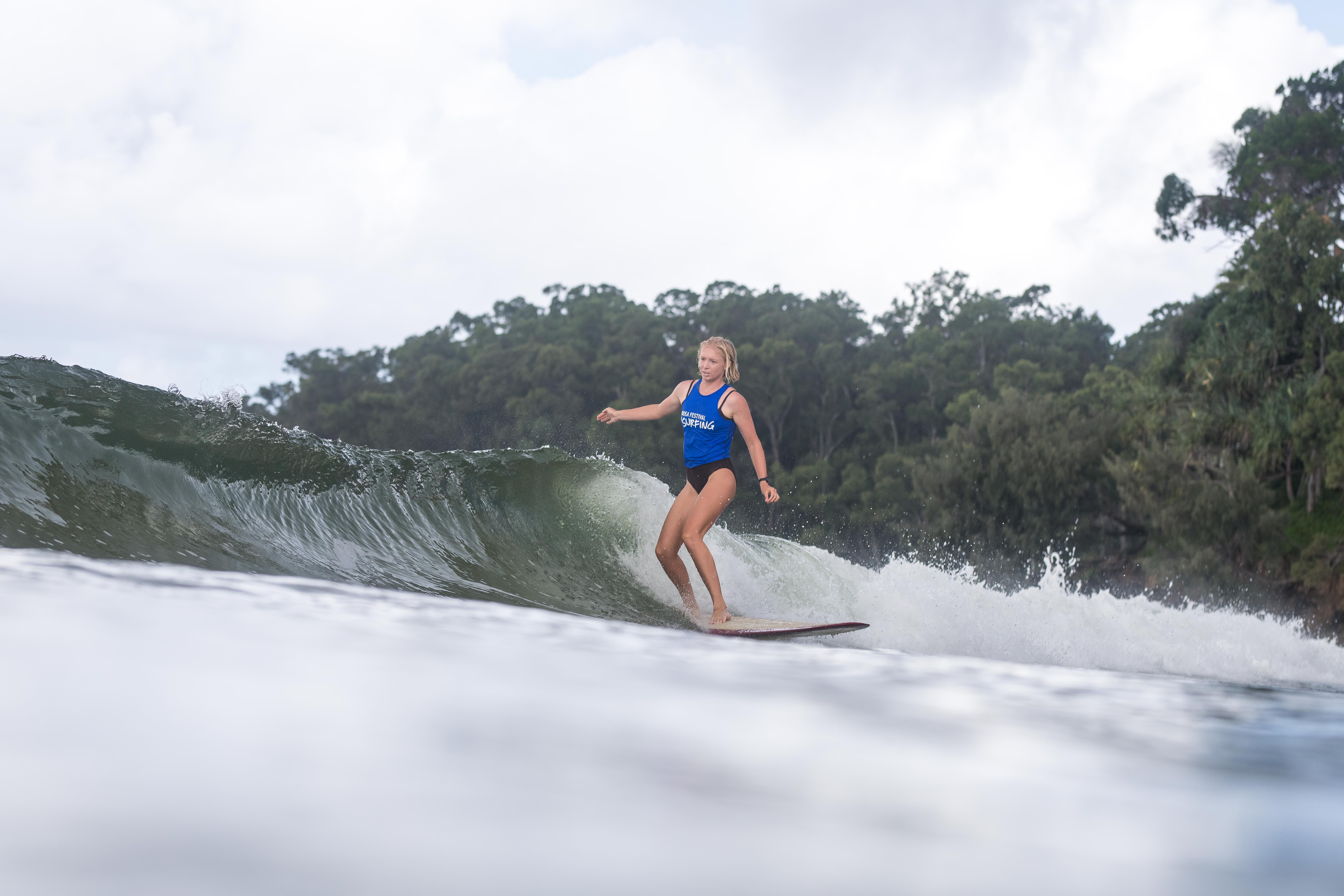 Mason's first footsteps in the Noosa sand were made as a mid-teen, fresh from a two-week Australian vacation with her parents and two sisters. The Waikiki local arrived, smiled, won admiration and took home a trophy. It was a big first impression for a youngster to make, and it paved the way for many years of successful festival outings. She found a particular affinity with Noosa and its coastline of perfect pointbreaks, and rarely failed to create one exceptional performance after another to take a host of victories at the Noosa Festival and around the world. Though yet to claim a world title, the defending Noosa Festival Logger Pro champion is easily on par with those women who have taken the crown in recent years. Now calling Noosa home, her familiarity with the local waves will give her the leading edge in any face-off, and the 2023 Noosa Festival of Surfing could well be her first step of the year towards her inaugural World Title.
Every year, the Noosa Festival of Surfing welcomes hundreds of inordinately-talented individuals to First Point. Each and every one is deserving of recognition, and with every passing year, the exceptional level of talent rises.
These are just a small handful of the skillful surfers who will be sliding the swells of First Point this March, with every division brimming with potential future world champions or those who could have been in their day.
We hope you can join us to witness one of the finest displays of longboard surfing anywhere in the world.
For more information, visit www.noosafestivalofsurfing.com
The Noosa Festival of Surfing acknowledges the traditional custodians of this land, the Kabi Kabi / Gubbi Gubbi people, and pays respect to elders past, present and emerging, with gratitude and thanks for sharing country.
Read more articles