Luxico Womens Open
The Luxico Women's Open brings together another star-studded lineup of surfers.
Tully White completed the Longboard Open and Women's Logger Pro double in 2021 but with her absent this year, it's anyone's guess who will take the title.
There is a long list of talented ladies who have done it all before and know the Noosa points like the back of their hands.
Our adopted Aussies, Mason Schremmer and Sierra Norris were both finalists in 2021 narrowly pipped by Tully.
Perhaps the biggest dark horse for the title is Luca Doble who scored an impressive 17.20 in the opening rounds of the Women's Open last year and if she can hold that form, she will be hard to beat. But our pick is shortboard convert, Kirra Molnar who's surfing style will suit the new judging criteria in 2022 for this particular division.
2022 Competitors
Mason Schremmer
Emily Lethbridge
Rachel Tilly
Kirra Molnar
Kathryn Hughes
Jade Gower
Mia Francis
Mia Waite
Wano Liao
Samantha Dehurst
Leena Mun
Bea Conroy
Emma Perrier
Toni Gewin
Lucy Bowen
Blaze Angel
Lila Elmore
Yeshe Elmore
Dippy St Baker
Juliana Scopel
Jocelyn Yee
Nyjah Duazo
Jessie Lloyd Stewart
Sasha Jane Lowerson
Women's Open - R1 & Requalifiers Tuesday 8th March
Women's Open - QF Wednesday 9th March
Women's Open - Semi Final Saturday 12th March
Women's Longboard Open - Final Sunday 13th March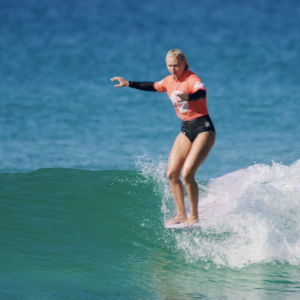 One to Watch
Kirra Molnar
With a background in shortboarding and a new judging criteria rewarding high performance manouvres at this year's Festival, Kirra stands a real chance of winning her first title on home soil.
Back to all Events