World Surfaris Womens Open
The World Surfaris Women's Open brings together the two façets of contemporary longboarding. Some opt for three fins and a more performance approach, others are devoted lady-lumberjacks, riding nothing but logs. But the ones who make the biggest impression are the beat longboarders, the ones who can do it all and match their surfing with the conditions and a more consummate skill-set. It's not old-school, it's definitely not high performance – it's a bit of both and a whole heap more. It is beat longboarding.
Women's Open - Heats TBC
Women's Open - Semi Finals TBC
Women's Open - Finals TBC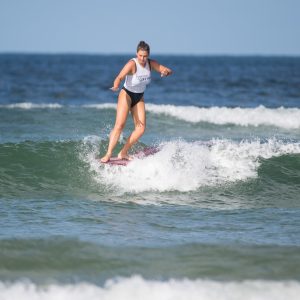 One to Watch
Emily Lethbridge
Multiple Australian Champ Emily Lethbridge will be looking to win her first Noosa Festival of Surfing Open title in May this year. This is always a great division to sit back and marvel at. You can bet surfers like Mason Schremmer, Kirra Molnar, Jade Gower and her sister Charlotte will be looking to take her down.
Back to all Events