World Surfaris Womens Logger Pro
The LadyLogger Pro is the definition of classic longboarding style, feminine grace and contemporary longboarding at its very best. Gender becomes irrelevant when these girls surf, and there's no denying that some of the performances we have seen in recent years are every bit as good, often even better, than their male counterparts.
If you want to see logging at its finest, look no further.
Confirmed Competitors:
Name
Kristy Quirk
Emily Lethbridge
Flora Christin
Kirra Molnar
Tia Mandu Deighton
Isabelle Braly
Lola Schremmer
Avalon Gall
sophia arky
Bianca Dootson
Lilliana Bowrey
Roisin Carolan
Amy Rose Hewton
Haley Otto
Susananh Leigh
Zoé Grospiron
Kelis Kaleopaa
Summer Richley
Sophia CULHANE
Lindsay Takekawa
Leigh Powell
Laure Mayer
Emily Gibbs
Leena Mun
Honolua Blomfield
Kirra Seale
Tully White
Kaitlin Mikkelsen
Lily Ellis
jina kim
Lauren Canavan
Candra Jordan
Monica Guo
Sierra Lerback
Mason Schremmer
Soleil Errico
Round 1 Mon 4th March, 9:20am - 11:20am
Round 2 Tues 5th March, 8:40am - 9:40am
Round 3 Tues 5th March, 5:00pm - 5:20pm
Final Wed 6th March, 2:50pm - 3:10pm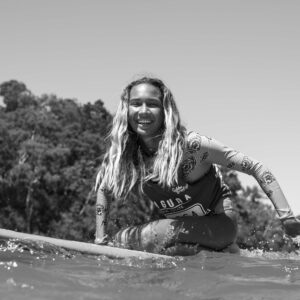 One to Watch
Kelis Kaleopaa
She may be also entering the Girls' Under 15 division, but Kelis Kaleopaa has never let a number stand in her way. She has been joining us at the Noosa Festival for the last few years now, and every year she both impresses and improves, surfing far beyond her decade and a half of life. 2019 might just be the year that the youngster beats her senior peers at their own game...
Back to all Events