Vissla Twin Fin
The Vissla Twin Fin is the personal project of Event Organiser, Josh Allen and Contest Director Tully St John.
With a field of amazing surfers (Men & Women) the inaugural Noosa Twin Fin was a great success bringing short boarding back to the Noosa Festival of Surfing for the first time in a long time.
In 2023, creative and innovative lifestyle brand, Vissla will partner with the Festival for the third consecutive year!
If waves at First Point are not contestable, the twin fin will be moved to a nearby beach break. But for the most part, fingers, toes, and everything else is crossed to see the twinnies take on pumping First Point.
At this stage the Twin Fin will run Saturday 11th March.
Check the draw for details.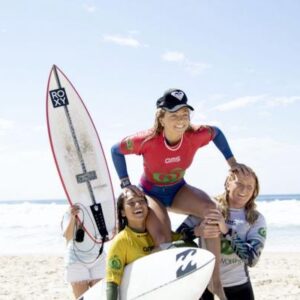 One to Watch
Coco Cairns
Current U18 Australian Junior Champion, Coco Cairns is the defending womens twin fin champion and will be looking to take that crown again! She is the one to beat and the one to watch but right on her heels is Sierra Lerback and Kirra Molnar who have proven themselves on shorter crafts before!
Back to all Events