Vissla Teams Challenge
The Team Challenge is an annual highlight of The Noosa Festival of Surfing every year.
With a star studded lineup of amazing surfers from around Australia and the world, teams of 4 will compete against one another in a tag team scenario comprising of at least 1 junior U/18 OR a female surfer.
The winners of the Team Challenge will take home the perpetual trophy handcrafted by renowned surf artist Owen Cavanagh and their team name engraved to the history books for ever!
Teams - Heat 1 Thursday 20th May TBA
Teams - Semi Finals Saturday 22nd May TBA
Teams - FINAL Sunday 23rd May TBA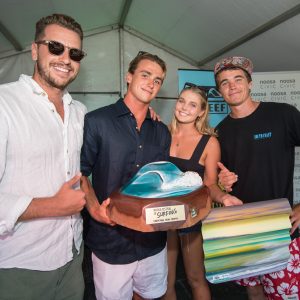 One to Watch
Team Okanui
Defending Champs, Okanui are hoping to complete back-to-back Teams Challenge titles this year.
Back to all Events