Noosa SUP Challenge
The Noosa SUP Challenge is an opportunity for paddlers to compete against each other in either short course (5-6kms) or long course (12-15kms) around the pristine waters of Noosa Heads during the annual Noosa Festival of Surfing, March 2022.
We anticipate 100-150 competitors of all ages and ability levels. New paddlers to world beaters are welcome to race in Amateur or Professional divisions including:
U16's, O40's, O50's, O60's and Open's.
First Point, Noosa will be our start and finish line with paddlers starting with a 50m soft-sand dash to start the race.
From here paddlers will angle towards Double Island point, pass around a buoy, heading towards Noosa National Park where they will make another turn and head back towards First Point, hugging the stunning fringe of Boiling Pot, Nationals, Johnsons along the way.
The 5km short course participants race will complete 2 laps of the outlined course, while the 12km long course will complete 5 laps of the course. Both courses will finish with a 50m sprint up the sand to the finish line.
The 12km Open paddle champion, 2nd and 3rd place will be rewarded with prize money.
This is your chance to join Noosa's first flat water race since 2016 in a new all inclusive format designed to cater to beginners and test the pro's.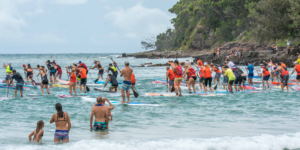 Please Note: If weather conditions do not permit a flatwater race on the open beach, the SUP race will be moved to our backup location. Course B shown in the event details will be used which consists of a flat water race around the Noosa Heads canals. Another amazingly scenic location for the race.
Paddlers may only enter ONE (1) division. All paddlers will start the race at the same time.
Course A:
Start and finish at First Point (main beach)
Paddle North towards Double Island Point to pass first checkpoint.
Angle back towards Boiling Pot and along the coastline back to First Point. Short course paddlers will do 2 laps, long course paddlers will do 5 laps.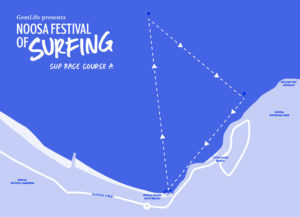 Course B:
Note: Course B will only be used if we are unable to use Course A. This decision will be made on the day and paddlers will be notified via email and/or text.
Start and finish at Lions Park Beach.
Short course paddlers will complete 2 laps of Noosa Parade. Long course paddlers will complete 5 laps.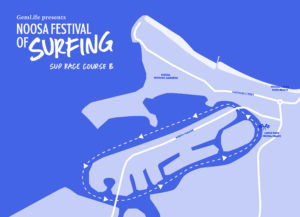 Sat, 12 March 2022 3:00 pm
75 Hastings St, Noosa Heads QLD 4567, Australia