University of the Sunshine Coast Junior Women U18
The Junior Women's Under 18 is about as far from a "junior" event as you could imagine! while all under 18, these young ladies are amongst the leading ladies in contemporary longboarding. Many are also signed up for pro and open events, and while still under the junior title, this division is up there with the best female longboarding you'll witness.
Confirmed competitors:
Charlotte Lethbridge
Jade Gower
Brooke Carlson
Journey Regelbrugge
Paris Ryan
Liana Cooper
Ella Rupp
Summer Gauld
Chloe Kruger
Tallara Ramm
Puamohaluokamahina Akaka
Sophia Arky
Annabelle Moses
Lila Elmore
Taylah McKenzie
Paris Kruger
Nelly St Baker
Lola Schremmer
Avalon Gall
sophia arky
Bianca Dootson
Summer Richley
Dippy St Baker
Round 1 Sat 2nd March, 10:00am - 11:20am
Round 2 Sat 2nd March, 4:20pm - 5:00pm
Round 3 Sun 3rd March, 6:40am - 7:40am
Round 4 Sun 3rd March, 1:20pm - 1:40pm
Final Sun 3rd March, 4:40pm - 5:00pm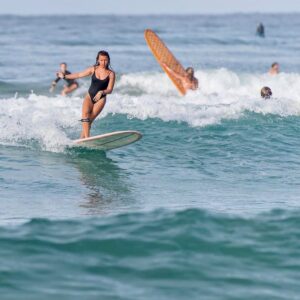 One to Watch
Bianca Dootson
Californian Bianca Dootson really impressed in 2018 and it was misfortune as much as her talented counterparts that held her back from a finals slot. Skilled and versatile, Bianca is happy trimming knee-highs on a log but equally adept when conditions turn serious.
Back to all Events