SurfYogis Girls U15
The Junior Girls' Under 15 is a showcase of talent beyond years, many of the entrants also surfing in open divisions. Coast local and defending champion, Liliana Bowrey is a strong favourite, but the global field of exceptional surfers won't make her title defence an easy ride.
Confirmed Competitors:
Mia Waite
Nyjah Duazo
Lucy Bowen
Tia Coulter
Luca Doble
Lilliana Bowrey
Chilli Ryan
Haley Otto
Luca Groh
Luluhia Kane
Tilda Thomson
Yeshe Elmore
Lily Southgate
Ashlee Tanner
Kelis Kaleopaa
Sophia Culhane
Indie Hoffman
Journey Regelbrugge
Coco Cairns
Round 1 Sat 2nd March, 8:00am - 9:00am
Round 2 Sat 2nd March, 3:00pm - 3:40pm
Semi Finals Sun 3rd March, 7:40am - 8:20am
Final Sun 3rd March, 4:00pm - 4:20pm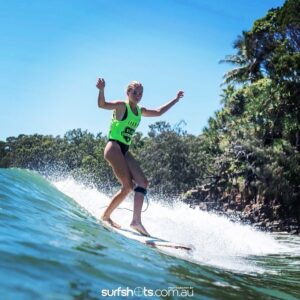 One to Watch
Luca Doble
From one of the most northerly points of Australia with consistent coastal surf, Luca Doble has grown up surfing perfect, logging, right-hand point breaks, and made a solid impact last year, gaining fourth position against some exceptional adversaries. A great competitor, she doesn't let the pressure of the clock get to her, with superb wave selection being a major asset. It's going to be a tough run to the top, but we'll be watching Luca all the way.
Back to all Events