Beach Training and Yoga Active Escapes at the Festival
Active Escapes is the World's Number 1 Fitness Retreat and they are bringing their Star Trainers to Main Beach! Come and join the AE Stars on the Noosa foreshore for an epic morning session. With every entry is also an entry to win an Active Escapes Festival Retreat in Bali May 11th to 17th 2020.
Saturday Februrary 22nd 2020 7am – Group Workout with Matt Fox, Andrew Pap and Danielle Robertson
Sunday Februray 23rd 2020 7am – Yoga with Amanda Bisk
Only $10 per event and go into the draw to win! Register HERE The winner of the place on the AE Bali Festival will be drawn at the Noosa Beach Bar at 4pm on Sunday February 23rd.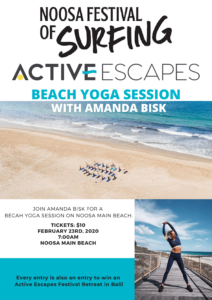 Read more articles